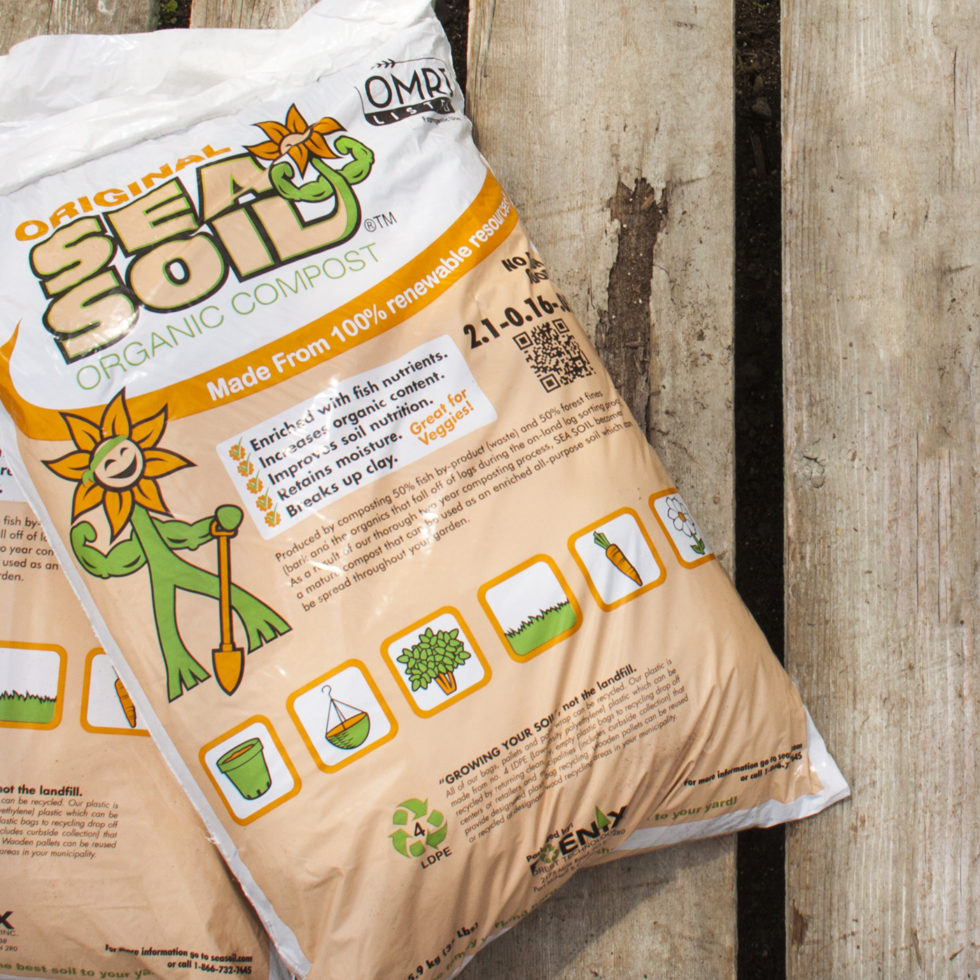 Sea Soil – Organic Compost - 32L
$7.99
Regular price
$9.99
off
Description
Return Policy
Delivery Info
Sea Soil is for use in plants, pots, containers, and gardens or anywhere you would like to grow plants. It contains abundant amounts of macro-nutrients, micronutrients and trace elements to produce healthy plants with good growth, strong roots, and scores of bright coloured blossoms.
Sea Soil is made by composting a mixture of fish by-product (waste) and forest fines (a logging industry term for bark and the organics that fall off of logs during the sorting process). It has a weed-free status, meaning it will not bring weeds into your garden, unlike many other soils can. 32L.
Organically fertilized with fish
Retains moisture
Breaks up clay and increases organic content
Promotes strong root development
Currently, our Sea Soil is in-store pickup only, but if you are ordering more than three bags and are interested in delivery, please call us at 604.541.1117
Dimensions: 36 × 18 × 5 in
Weight: 35 lbs
Live Plant Returns + Refunds from our Online Shop
In the unfortunate circumstance that a plant arrives damaged or does not meet your expectations, please notify us within 48 hours of delivery so we can begin the refund process at 604.541.1117.
Please have ready
• The original receipt (from the package or from a confirmation email)
• We may require photos of the plants, or packaging, and the condition they arrived in
• The credit card used to purchase the plants online
If your plant is damaged during transit, arrives in an unhealthy condition, has pests, or is not the correct plant ordered, we will replace it free of charge or issue a refund. All returns and refunds are subject to our sole discretion and addressed on a case-by-case basis.
Please note:
• A damaged leaf or two does not qualify for store credit
• We are not responsible for packages that are left at the post office or left for prolonged periods of time outdoors
Trees & shrubs will be accepted for up to 3 months from the original dated receipt, if they are found to be defective. The refund will cover the purchase price of the tree or shrub as well as delivery fees. We will make every effort to replace the original plant product, however, for items that are no longer in stock, a West Coast Gardens store credit will be issued.
We are always happy to share our expertise with you to help you succeed with our plants in your home and garden. For in-store purchases, please speak with our nursery specialists at the time of purchase. We also attach informative planting and watering tags to provide additional information on how to care for your purchase. Feel free to contact us directly if you have specific questions regarding your plant selection.
Gift + Home or Other Product Refunds & Returns from our Online Shop
Online purchases can be returned for a refund if they are mailed within 7 days. Please contact us at 604.541.1117 before returning your package so that we can review the return and give you specific instructions.
Please send the product with:
• The original packaging
• The receipt or proof of purchase
West Coast Gardens
1420 172nd Street
Surrey BC, V3S 9M6
Canada
Shipping charges incurred in connection with the return of a product are refundable. West Coast Gardens will be responsible for paying the costs of shipping the product, both to and from West Coast Gardens, as long as all of the return eligibility criteria noted above are met. West Coast Gardens is not responsible for packages returned without tracking information.
All gift + home products purchased on sale or at a discounted price are considered Final Sale and therefore non-returnable. Seasonal items (ie. Christmas product is not eligible for refund after December 10th).
If you have purchased an item from our Gift + Home department at full price, and now find that it is on sale, we will happily offer you a price adjustment within 7 days of purchase. For online orders, the price can be adjusted if the date of shipping is within 7 days of the sale offering. Please contact us as soon as possible. Original receipts must be presented within 7 days of purchase for an in-store price adjustment to be processed.
If you have any questions about our Returns and Refunds Policy, please contact us at 604.541.1117 or hello@westcoastgardens.ca
We are able to ship plants within the BC Lower Mainland and Fraser Valley area. Unfortunately we cannot ship plant products elsewhere in Canada at this time. Our other products can be shipped throughout Canada. For more details please see our shipping + returns policy.
Sea Soil – Organic Compost - 32L
$7.99
Regular price
$9.99